Diary
16/01/10, Wolff's studio-recording-diary
studio day 10, part V:
As Jamie drives into the parking place, it feels that the engine finally sputters and chokes, but he somehow manages to push the clutch in time and we elegantly coast the last few metres until we are parked right in front of the pump.
Then suddenly everything is very easy. The supermarket is still closed, but gasoline is on self service again. Joey puts in his card, then the nozzle into the tank, selects the right amount and - bingo! A slow, steady flow until our tank is filled up to the brim with precious diesel. Thank god.
And we might even be just in time for the next ferry, if we leave right away! We all get back into the van, Jamie turns the key, the ignition hums and…and…
AND NOTHING.
We try again and again, and we know we can only play this game until the battery is empty. And - from experience - we know that it probably won't make a difference. The tank has been completely empty and now there is a bit of air in the system. The diesel engine won't start again. Still we try. And then the battery IS empty. At length we find someone to help us jumpstart the car, but that also doesn't work. So eventually, Jamie calls the ADAC from his mobile.
As we are waiting for the tow truck, I'm leaning against the hood of the car, yawning and shivering in the morning cold. I know I'm not going be in Hamburg in time to see my girlfriend off - it just wasn't meant to be. But why exactly did they have to steal the spare canister? Why?
30/11/09, Wolff's studio-recording-diary
studio day 10, part IV:
After trying each and every one of our various cards on every gas pump on both sides of the gas station for 45 minutes, we give up. All we manage is to get money taken off our accounts but no petrol is coming out. It's a dilemma: We know we can't drive on the ferry like this (what if we can't drive off again?) and the first gas station in Germany is also kilometres away from the ferry.
At last, another car pulls in right next to us and we talk to the Danish driver - who doesn't manage to extract any petrol from the pumps either. "Maybe they are empty! But there's another gas station, just follow after me."
We know we can't have much further left to drive. But somehow (back over the bridge, a long road straight ahead, a right turn and 500 metres of street into a small town) we make it.
A kiosk stands next to a single gas pump; the place is so tiny we would have never found it on our own. And it's open. Jamie turns off the engine and we walk in. A woman is sitting inside; she is already selling fresh buns though it's still dark. This could yet be our lucky night!
"You need petrol? Oh no, sorry. We're out of petrol. The gas truck never came. But there is a Statoil on the other side of the bridge, close to the ferry."
I'm not sure how much more I can take. "We already tried that, they're also out."
"You might try at the supermarket. Back the street you came from but don't turn left towards the bridge, just keep going straight, it's only 2 kilometres."
I guess we know the area quite well by now. Surprisingly, the engine still springs to life and Jamie drives us to the other part of the town. The fuel meter has long shown nothing but empty and the drive seems to be longer than the woman said.
Then, just as we think we must have missed it and just as the sun is starting to come up, the supermarket. It looks a bit strange at dawn, with the single gas pump right in front of it.

14/11/09, Wolff's studio-recording-diary
studio day 10, part III:
We're making good time down the E4 and I take the wheel about an hour before Helsingborg. As I pass a Statoil, I glance at the fuel meter, it's a little below half full. I make a mental note to stop at one of the next gas stations.
There is none, however, before we reach Helsingborg, but I don't worry too much: the fuel level is still over a quarter. We arrive at just the right time to drive straight onto the ferry to Helsingor. I might just be in with a chance to keep my promise and make it to Hamburg for Nici's flight!
I take the wheel again and drive on through cold, night-time Denmark while the other two are sleeping in the back. No gas station, yet. I decide to give it another 80 kilometres. Otherwise, I will stop and put in the diesel from the spare canister.
60, 70, 80 kilometres, still no gas station - I stop at a parking place. "What's up?" I hear from the back. "I'm gonna put in the extra petrol, just to be safe. But I don't see it. Anyone know where it is?"
The canister is definitely gone. And it takes a while before we realize: those little bastards who broke into our van must have taken it as well! Suddenly I get the sickening feeling, that they might get one last laugh at us.
We drive on and I try to save petrol by not going faster than 100 km/h, all the time scanning the road for any signs of service, but no luck. Finally, another hour later, we reach Rodby, where the ferry to Puttgarden leaves. The needle is on 'definitely empty' now. No gas station. Damn.
I ask at the ticket booth and the woman answers: "Gas station? Oh yes. There is one - just off the parking lot, the dark road, 'round the curve, turn right, drive over the bridge and it's on the left hand side after two hundred metres." Thank god.
We follow her directions, all the time praying that the petrol won't run out before we get there. It's a Statoil, but suspiciously deserted and the lights aren't on. It's closed. Damn! But wait a minute: It is self service and you can pay per credit card, all around the clock.
Or so it seems.
03/11/09, Wolff's studio-recording-diary
studio day 10, part II:
I have to double a fast electric guitar riff on the glockenspiel now. Unfortunately my hands are a bit shaky from having too much coffee and not enough breakfast. And somehow the glockenspiel feels particularly small today. But - thank god - it's ok to play the melody to a metronome and then copy it into the places where it comes in the song. This means I only have to get it right once - and luckily I do.
A three-day break is coming up now. Joey, Jamie and I have to drive straight back to Germany tonight to play a few gigs that we had already agreed to do, before it was clear that we would be recording here in Sweden.
Before we leave, we want to make sure that we have finished every bass and drum part on the album. That way we don't have to bring those bulky instruments up to Sweden again. I also promised my girlfriend - who's leaving for Scotland tomorrow morning - I'd try to accompany her to the airport in Hamburg, if possible.
So far, it is looking good: It's the late afternoon and Lasse and Tommy are only double checking and listening through all the songs one more time, while the rest of us slowly pack up our stuff.
However, the rest of the day and the whole of the night becomes one crazy endless nightmare from hell.
(I have long been looking forward to telling this story, but now - it's almost a year later as I'm writing this down - it's hard to remember all the details. But more or less, here's what happened.)
At about six o'clock Lasse and Tommy say that they don't like the way "Back to the rain" is sounding at all. They decide we 'quickly' have to start all over again from scratch, doing the drums first, then the bass.
Since we're no longer in the big studio, I try to squeeze some parts of my drum set into the small one. Then a sound check, and then I play a whole different groove to a click track. This time one instrument at a time: Hi-hat, snare drum and bass drum. I'm not too happy and not sure if I like this new sound, but I do as I'm told anyway. After Tommy's quick-snap editing, we carry out the drums and set up the bass and it is Jamie's turn.
Needless to say, it's well dark before we leave the studio, a twelve hour night drive, including two ferries, ahead of us.
19/10/09, Wolff's studio-recording-diary
studio day 10, part I:
It seems Jamie and I weren't the only ones who couldn't sleep yesterday night. After he finished editing our song, Tommy went home at ten thirty, slept for about two hours - but was suddenly wide awake again and decided to go for a walk around Stockholm.
After passing through the drunken nightlife madness of his neighbourhood, he found himself in an old part of the town that he had never visited before. Somehow the sleeping and then waking up must have cleared his mind in a way that he took in every street name and antique building as if he had a photographic memory. He got quite fascinated by the deserted old houses, the town hall and hospital. This morning he could actually still recite the exact historical dates (gathered from tourist information billboards) of foundation, rebuilding, the first kidney transplant in Sweden and various other happenings.
His editing also went very well. The drums and percussion sound really tight together now from start to finish. Though Tommy looks a bit tired, we start re-recording the bass and guitars right away. And while I'm writing this little diary entry, Joey is already having a go at…let me check what he is actually doing…
I thought it was going to be the lead vocals but no. It is a strange guitar-like Instrument, a Swedish version of the auto harp. It looks like a zither but Joe is playing it with a soft tympani mallet. It seems impossible to tune it to the right chords, though. A short remark I make as I stick my head in ("Maybe we could use a real guitar and play it with a mallet?") results in Lasse making me play the soft mallet while Joe is laying down guitar chords with his left hand.
Next is the acoustic nylon-string guitar again, this time not with a Swedish 100 crown note stuck in between the strings, but with a one dollar bill. Apparently the American money sounds even softer. I don't know what this means.
They keep interrupting my diary writing!

03/10/09, Wolff's studio-recording-diary
studio day 9, part II:
Time flies, 6 p.m. already. Jamie - who was fast asleep on the couch just 20 minutes ago) seems to be recording electric double bass on "Making it easy" now.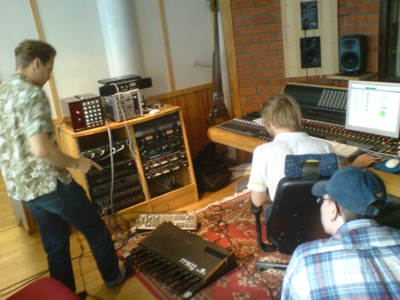 And then all of a sudden Lasse and Tommy call it a day. "Making it easy" needs to be edited thoroughly before Joe can put on his final lead vocals and Tommy wants to do it tonight. This will be the first track to benefit from the "cutting edge" of computer editing possibilities. We all hope that the song will still rock and sound like a real band playing.
At eight o'clock we're back home in Uppsala. Joey's little daughter is already asleep. We grab a beer from the fridge and browse through his old video tape collection. We decide on a movie called "She's the one" which I haven't seen, yet. Tom Petty wrote the music for it and the movie is really hilarious, starring a pre-Hollywood stardom Cameron Diaz as a hot but basically false, two-faced and greedy…ahem…bitch.
Jamie and I aren't really tired. Before bed, I turn on my laptop and we watch three more episodes of South Park on the internet and finish off the rest of the beer.
12/09/09, Wolff's studio-recording-diary
studio day 9, part I:
Everybody's totally on time and the day begins with Joey singing on "You can do anything".
I like the way this is beginning to sound: With the new bass groove it has got quite an upbeat feeling. The groove reminds me of "Wir sind Helden". This one is nailed in no time and the moment Tommy starts editing, Joe walks out again the door to his OTHER JOB. It seems that being a rock god simply isn't enough for Joey "the saint". When he is not 'waxing a hottie' he steps away from the microphone, puts on his rubber gloves and continues waxing the van.
It has actually gotten to the point where ordinary people in the street turn their heads and stop walking to get a good look at our shiny, shiny tour bus. Whatever, man.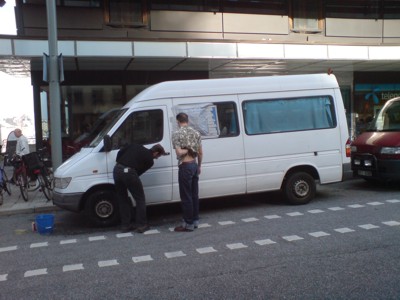 After that it's more lead vocals: Something to live for and (after Jamie lays down a moog synthesizer bass line in a single and glorious take) Love's great Illusion.
In the meantime I look for replacements for our stolen gig clothes on the internet but end up calling home to get my girlfriend to check out our usual shops in Hamburg.
I also sit down at the piano and write a second harmony to Joe's guitar solo on Don't let me let you down (which may not going to be a guitar solo but possibly trumpet, vibes or a whole horn section instead).

23/08/09, Wolff's studio-recording-diary
studio day 8, part II:
Right after this, it is time for Jamie to sing lead vocals on "The sting". And I have to admit: He actually gets them done in no time at all.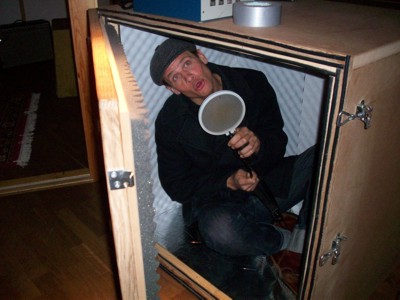 So not too much later Joey walks in to sing "Making it easy" but suddenly gets send out again.
Because - just as I sit down, crack open a beer to celebrate my successful vocal take and try to write THIS - Lasse wants me back in to play an organ part!
What that actually means is carrying in the old Phillips organ, finding a sound, writing down the part (so I can remember it) and then playing it on every chorus.
Oh man, he is really making me do work and stuff!
In the evening Joey, Jamie and I go out to a place called "Pet Sounds Café" where a band called the "Rockridge Brothers" (no joke!) is having their record release party. The music is fun, sort of acoustic blue grass and rockabilly, and they could be straight out of the movie "O brother where art thou". But we are a quite tired. As soon as the show is over - and for once after only two beers - Joey and I drive back to Uppsala.
14/08/09, Wolff's studio-recording-diary
studio day 8, part I:
We can't get the window fixed today either. A quick stop at 'car glass' in Uppsala after breakfast (they can't get the part) and various phone calls but still no success: There isn't a single Mercedes Sprinter side window available in the whole of Sweden.
Joey keeps polishing our tour bus with various chemicals though - it has never been whiter and shinier. Occasionally, he puts down the sponge to play rhythm guitar on "Buzz chasing" or to record lead vocals on "Gate crashing" (which also sound quite 'polished', ha-ha!) but is back outside quickly.
Jamie adds a new bass line and some Moog pedal to "Gate crashing". And then it's time for lunch, so we all walk over into Gamla Stan together and find a cheap Italian place. When we get back to the studio, Joe quickly does his lead vocals on "Buzz Chasing". After Tommy is finished editing them, they call me in. I think they only want me to some backing vocals - but NO.
All of a sudden it's my turn to become the lead singer! Vocals on the song of mine that Lasse chose: "Mr. Man". I tell you, it would be quite exiting for any old drummer to hear himself in the headphones all of a sudden, singing to a great sounding backing track! I try to relax, take my time and really enjoy my big moment.

14/07/09
Here are some pictures from our promotion tour in Berlin and Hamburg at the Saturn stores. Thanks for coming, buying and taking the pictures :-)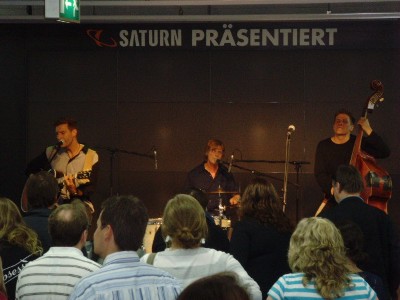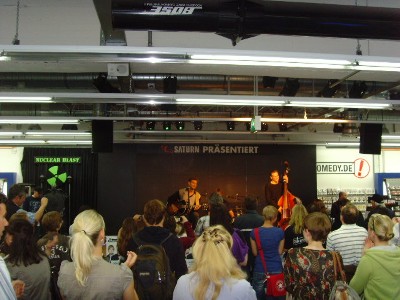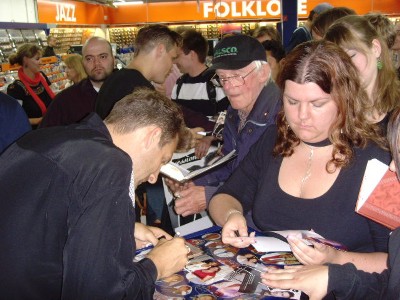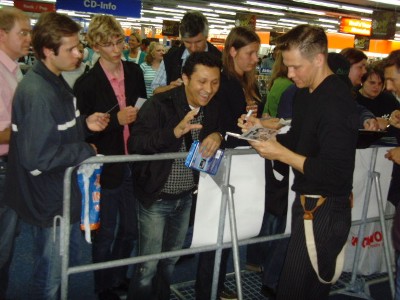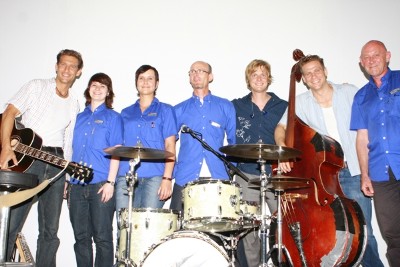 08/06/09
The time of recording our new album has been one exciting and exhausting ride!
But it was all worth it...
Three weeks have passed now since our release-party, which was a great success and a lot of fun!
Here you can find some impressions, shot by Dani and Kiwi. Thanks a lot to all of you!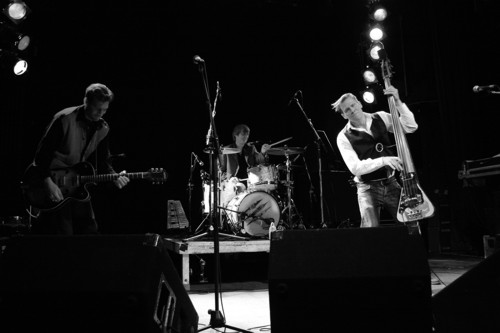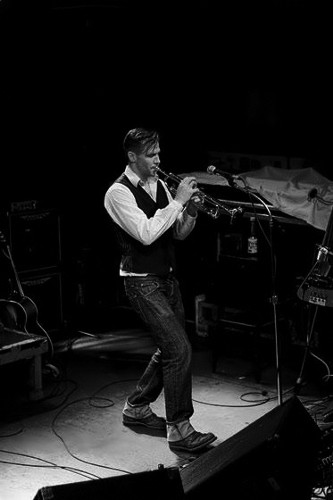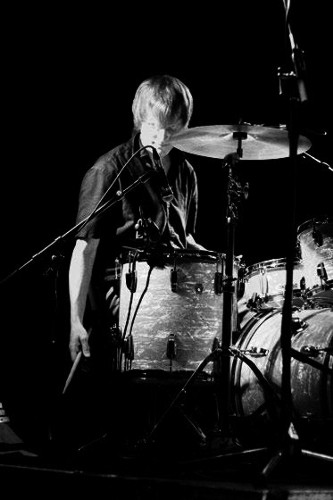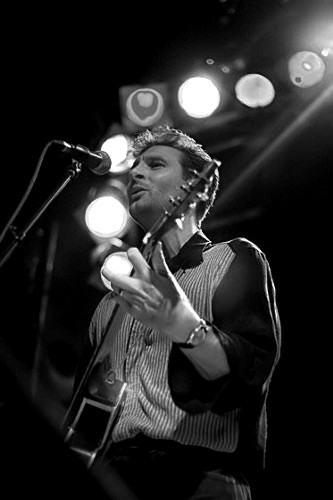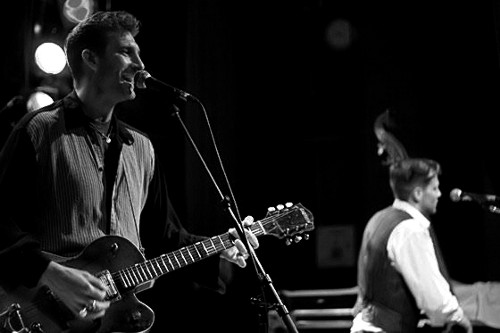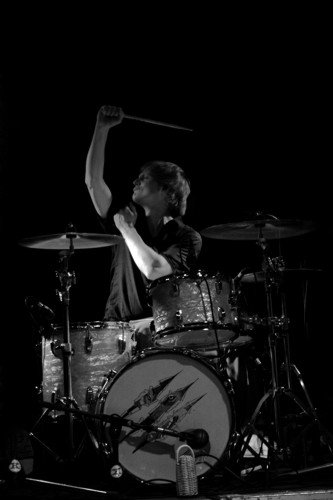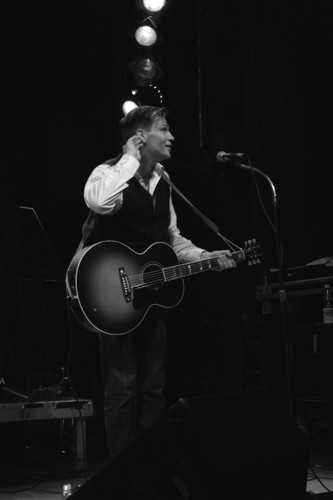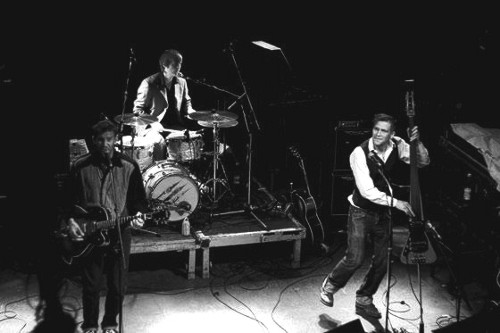 04/05/09, Wolff's studio-recording-diary
studio day 7, part III:
"Wait a minute. Bjorn's got vibes at his studio." Lasse says and walks straight out of the room.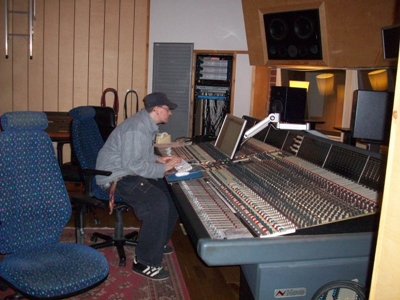 "OK, here's the deal." he says when he comes back five minutes later. "We get to use John's (the drummer in Peter, Bjorn and John) vibes, but Jamie here has to play trumpet on Bjorn's demo recording, right now. You know, Bjorn was going to buy a trumpet and learn how to play it - he is good that way - but this is much better!"
Wow.
Jamie did good work that night. So, this afternoon - while he is on the phone, trying to get the car window fixed, and Joey is laying down more guitar tracks - Tommy and I ride the subway to Bjorn's demo studio which is only a few stops away, nicely located close to a little canal. Bjorn is on tour in Brazil at the moment but Tommy has got the keys and lets us in.
I won't bore you too long, but playing John's Musser vibraphone (about the coolest brand there is, in vibes) is quite an experience for me. And also much more complicated than I had imagined. You know, I'm used to playing the piano, but the foot pedal on a vibraphone seems to work in mysterious ways! Thank god, at least I did my homework and wrote down a part for "Don't let me let you down" beforehand, so I don't have to worry about WHAT to play as well, only about playing it correctly.
When Tommy is happy (or at least thinks he can edit something OK together), he encourages me to play on "The Sting" and "Mr. Man." as well.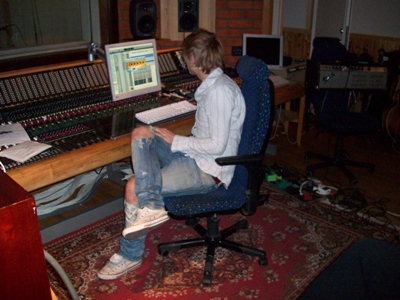 Before we leave, we quickly
a) Assemble a pile of obscure instruments that Tommy thinks we are allowed to borrow, for later use at Decibel
b) Record a duet of "Seventh Nation Army" on vibes and "Stylophone" - for no reason whatsoever!
On the subway ride back, I almost fall asleep - this feels like a long day again.
21/04/09, Wolff's studio-recording-diary
studio day 7, part II:
And then - while I meet Nici for a final coffee and then escort her to the train station - Joey actually gets to play guitar!!!
Starting with his Gretsch on various parts of "Making it easy", he soon moves on to "You can do anything". When I get back, he is strumming the rhythm on what appears to be Lasse's Taylor nylon string guitar but with a Swedish 100 Crown note stuck between the strings. I decide it's better not to ask.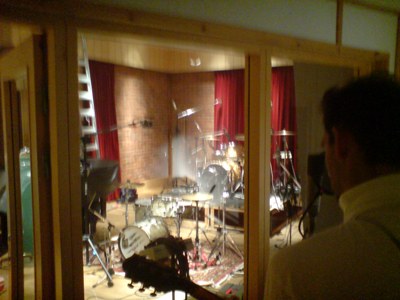 I completely forgot to tell you something.
I guess I have been going on quite a bit about the calibre of people we are working with here at Decibel. But what's also amazing, is the calibre of people that they are working with, when they are not working with us, if you know what I mean.
During our last session here for example, we were recording next door to Max Martin, the Swedish producer who is responsible for most of this decade's number-one pop hits. He was recording in the big studio then but would stick in his head from time to time. Once, just as Jamie was about to do a trumpet overdub on "Here we go" in the small studio. As it goes, trumpet had been Max's first instrument as a child, so he says: "Can I have a go? Man, I should really find my trumpet and bring it here tomorrow."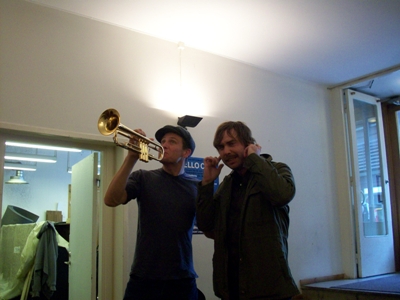 Another great producer (but possibly worse trumpet player) is Bjorn Yttling from "Peter, Bjorn and John". We met him a few nights ago. Lasse, Joey, Jamie and I were listening back to "Don't let me let you down" - and suddenly Bjorn is standing next to us, listening, tapping his foot and even complementing me on my drumming (that's probably only my selective memory, I'm sure the other three remember it differently!).
After Bjorn goes to work in the other room, we talk some more about "Don't let me let you down" with Lasse. I mention how I had always wanted to play the vibraphone and how well that would fit the song.
12/04/09, Wolff's studio-recording-diary
studio day 7, part I:
Time flies - just one more busy day ahead of us, then the first week of recording our new album at Decibel Studios in Stockholm is over already.
Another sunshiny autumn day, not that the weather matters so much when you're sitting in the studio all day, but so far we've been lucky. After breakfast with my girlfriend (I got it so good!), I walk over to the studio. On the way I quickly stop at the supermarket and buy some nice breakfast stuff (so everyone else can have it good as well).
Then it's time to meet Tommy for our morning percussion recording session. It's funny: As Jamie observed the other day, there's something very C3PO-R2D2 about the relationship between Lasse and Tommy. Basically, it's the concept of having an indispensable little counterpart.
Starting at an early age, when he first set foot into a recording studio - as the singer in "Fist Funk", a "Rage against the Machine" inspired hip hop band - Lasse bombarded the sound engineer with questions and knew at once: "I'm STAYING. This is what I want to do for rest of my life!" (A resigning "Oh, no." was all the poor man could muster up for a reply.)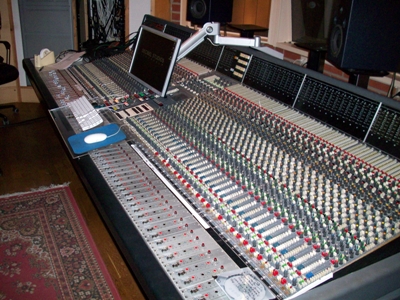 Since then Lasse has already paid his dues as a sound engineer for quite some years (and still can get really inspired and put in long hours). But now, with a young and talented sidekick (whom he is willing to hone to perfection) and enjoying working as a producer more and more, Lasse is often perfectly happy to sit back and let Tommy "push the faders". (By the way, Lasse is totally aware of this and jokes about it, signing emails to us with "the silverback chief gorilla & his little chimp - guess who is who!")
Anyway, my appointment with Cheetah (Ha-ha!), I mean Tommy:
We start with a tambourine on "Making it easy", then - after trying out a shaker on "You can do anything" - Tommy suggests using maracas, which sound quite cool. We move on to "Mr. Man", putting down several tambourine parts.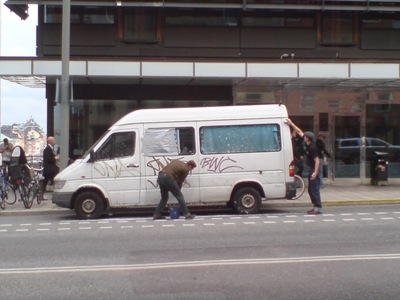 Meanwhile, Jamie and Joey find a bottle of industrial strength car cleaner at the nearby gas station and try polishing the spray paint off our van. This works surprisingly well, but takes a lot of time and "elbow grease". Also, the cleaned spots now look much cleaner than the rest of the bus. Once you start, you've got to do the whole thing.
24/03/09, Wolff's studio-recording-diary
studio day 6:
My anger at the Swedish population in general and their youth in particular has died down a little, so Tommy and I go in an hour earlier to lay down some percussion tracks.
I get to play Maracas and a tambourine on Don't let me let you down as well as an instrument that Lasse and Tommy for some reason refer to as "Kalle Kamel" (a tambourine with jingles and a calf skin) on Something to live for. Then I play some more Maracas on Back to the rain.
In the meantime, Jamie takes his digital camera and goes on an undercover investigation around the neighbourhood. He manages to find and photograph more of the same graffiti tags that have been spray painted on our bus, on various houses and cars.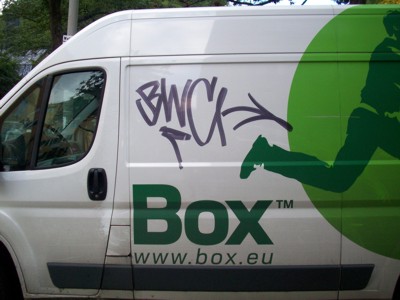 When I'm finished laying down a clever little tambourine part on The Sting the other guys walk in.
We continue working on The Sting for quite a while: Jamie, Joey and I squeeze into a tight part of a storage room, where (according to Lasse) "The resonation is amazing!" and do some "high-energy-handclapping". Next we record some "foot-stomping-on-various-objects" (an empty guitar and an accordion case and a cable box have to suffice).
Finally Jamie (possibly because Joey is really busy not doing anything?) gets to strum a Nylon String acoustic guitar.
12/03/09, Wolff's studio-recording-diary
studio day 5, part 2:
I don't know if you are familiar with the pedal steel guitar, apparently it is quite hard to play. Joey and I like it a lot, especially when it is used outside its natural habitat (Nashville Country Music) where it sometimes can sound a bit clichéd. You can check out Anders' original project on MySpace. He is a great singer and guitarist, as well as an all around friendly guy. I hope we will be able to take him on tour with us sometime.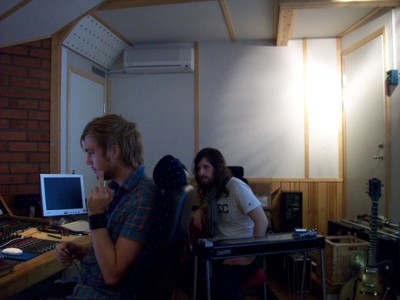 Later that evening (I have already left for the night) Jamie and Joe discover that somebody has smashed the window of our van, taken the radio, Jamie's backpack, my navigator, our gig clothes and beer supplies - and sprayed graffiti tags all over the side of it.
They are only able to retrace a little bit of the thieves' path (by following a trail of empty Beck's cans) and a called-in elderly Swedish police officer also isn't very helpful: An exact documentation of what has been stolen ("Six jackets, you say. Three black, three white. No trousers to go with them, whatsoever. Let me just correct my report one more time."), only proofs to be a very lengthy affair.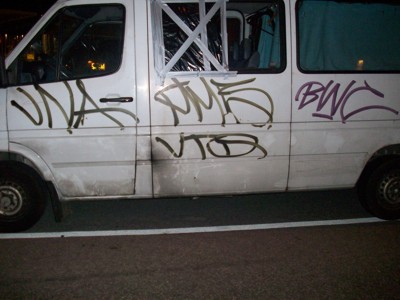 All they can do is tape up the window with plastic bags and drive back to Uppsala.
We seem to be a bit unlucky when it comes to recording in Sweden. Three years ago - while we were working on "Everything is happening" - somebody also broke in and stole our entire CD collection out of the van, parked in front of Joe's house in Uppsala!
We couldn't blame them too much, though. Back then we were still called PAY-TV and had written the band name proudly and in large letters across the door. PAY-TV also happens to be the name of a (quite annoying) Swedish girlie band, determined to make their way into the Eurovision Song Contest.
This is, by the way, one of the reasons why we became THE OBSESSIONS.
19/02/09, Wolff's studio-recording-diary
studio day 5, part 1:
Life is good at Hotel "Anno 1647" - and staying just around the corner from the studio also means an extra hour of sleep!
Nici and I walk downstairs for a tasty all-Swedish breakfast, including an all-Swedish soundtrack, the entire "Long gone before daylight" by the Cardigans (one of my all-time favourite albums). Greatly inspired, I walk over to Decibel for our first day of over-dub recordings.
I get there first (Dagge lets me in), then Tommy, then Joey and Jamie and then Lasse, and after half an hour of setting up the computer we go to work.
Jamie - who seems to have a bit of a hangover today - gets to start, by playing an acoustic guitar part on "Gate Crashing". When in doubt, there seem to be two basic rules to Lasse's and Tommy's way of recording:
1) Always call upon the person who is in the worst shape and/or is least expecting it
2) Try to stretch out the cruel joke of not letting Joey do anything for as long as possible
Then it's my turn, I add a shaker on the verses and a tambourine on the choruses. And then - by request of Tommy - a gospel-like tambourine on the last chorus, one that gives the song a bit of a double-time feeling (like on "I'm a believer" by the Monkees).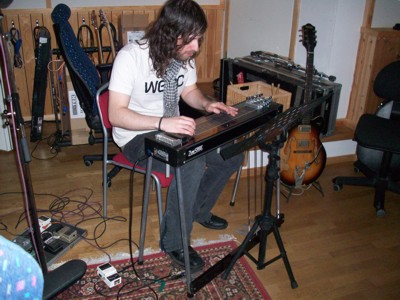 After lunch, we have a special guest. Anders - a pedal steel guitar player who has just moved to Stockholm from the north of Sweden - comes down to the studio for an appearance on "Love's great Illusion". His playing sounds really beautiful, so Lasse and Tommy decide to have him try something on "Mr. Man", "The Sting" and "Back to the rain" as well.
23/01/09, Wolff's studio-recording-diary
studio day 4, part 3:
And now we're done - the first part of the recordings completed! Friday night, a good time to celebrate. At precisely this moment the doorbell rings and in walks Nici, with Johanna - a friend of hers from Hamburg who has just moved to Stockholm to do an internship for six months - and Steven, one of Johanna's colleagues from her new work.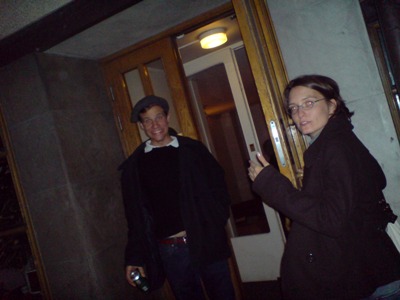 We all have a drink together at the studio (we brought a good supply up with us from Germany) but then Nici and I get excited about exploring Stockholm's night life. Tommy has already got plans to go to a party at a friend's house and Lasse wants to make it an early night and show his face at home for once. So, I go out with Nici, Johanna and Steven while Jamie and Joey remain at the studio for a final drink with Lasse and Tommy, planning to hook up with us later per SMS.

First we climb the stairs to Mosebacke (a hill close to the studio) and walk over a bridge to "Gondolen" - a cocktail bar overlooking Stockholm from a tower-like building, a recommendation of Lasse's. It has got a nice view, but once up there we decide against it, because it is slightly beyond our price range and people seem to be really dressed up (and because they tell us it's full and we would have to wait anyway!).
Instead we go to a bar called "Indigo", just around the corner on Götgatan. I remember going there when we were recording our last album "Everything is happening" with our then-producer Brady Blade, and loving it. Tonight it's crowded and they have good DJ behind the bar, playing cool records from Africa and all over the world. We text our location to the others, drink beer, talk for a long time and watch Swedish people, until I get hungry and we decide to get a quick bite to eat at the Slussen McDonald's. After that we walk past the studio - only to find that "good ole boys are still drinking whiskey and rye".
Wow. We must have been gone for three hours, but it seems that everybody is still standing in exactly the same spot they were when we left! Tommy is still just about to leave for his party and Lasse (with his coat on) is still almost fiddling with the keys to lock up the studio, only the alcohol supplies seem to have gotten a lot smaller. Well, if we can't beat them…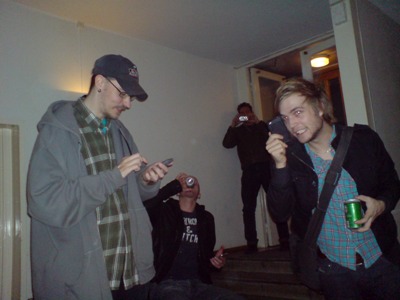 We join them in manic conversations that circle around (and around) world religions, Iphones and the fact that "it's really time to go now" (e.g. to a party or home) - but whoever gets up to leave always seems to be drawn by an invisible magnetic force, away from the door and towards the fridge.
At one point Tommy even manages to leave, but Lasse calls after him immediately, threatening that he's fired if he doesn't come back, so reluctantly Tommy trudges back in.
Eventually, Lasse and Tommy DO lock up the studio and Jamie, Joey, Johanna, Steven, Nici and I walk back to "Indigo" for a final one.
30/12/08, Wolff's studio-recording-diary
studio day 4, part 2:
Did I mention that Lasse and Tommy always manage to get a fantastic sound?
With the last song done, there are still a couple of things left to do before we move into the small studio:
Lasse and Tommy want some extra drum fills on "Back to the rain", played on the (See, what did I tell you?) Ludwig. It will make a nice contrast, because the rest of the song has been played on a different drum set - and they can decide later where to have the fills come in.
Jamie and Tommy come up with a nice double bass part for "Mr. Man" and record it. Jamie's "real wood" acoustic bass (not the 60's plywood bass he uses when we play live) sounds totally amazing - especially when recorded in the big studio at Decibel!
I play my piano part on "Something to live for". Now, this is something I had really been looking forward to. I had pictured it like this:
While Joey and Jamie do all of their overdubs I would sneak into the big studio and do a daily hour of piano practice and warm-up exercises. Then, towards the end of the recording session - when I'm absolutely prepared - I would sit down behind the Steinway Grand and do a glorious 5 to 10 takes, the best of which we would later choose.
Instead, it goes somewhat like this:
Tommy: "Ready to play some piano?"
Wolff: "Ahem, I'm sort of…"
Tommy: "Right now?"
Wolff: "Oh. Do I get to play the Steinway?"
Tommy: "No, no - too gay. The small upright in the corner will be much cooler."
The whole thing only takes about ten minutes.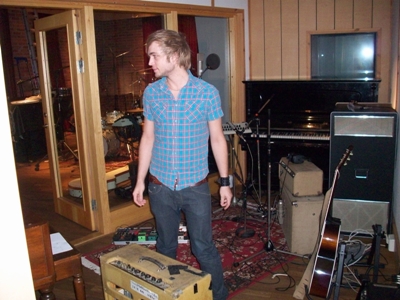 We take an hour to clean up the big studio. An hour of wrapping up cables, packing up drum sets, snare drums, cymbals, double basses, guitars and amplifiers, collecting microphones, microphone stands and dirty coffee cups, putting bottom skins back on stand toms, removing coat hangers from ancient ribbon microphones, carrying everything out and starting the dishwasher.

08/12/08, Wolff's studio-recording-diary
studio day 4, part 1:
One more song to go!
That is, to record the basics or backing track of. Of course, then we'll be working with these songs for quite a bit. Our plan (from tomorrow on) is to move over into the small studio and do six days of over-dub recordings (lead vocals, guitars, basses, keyboards, percussion instruments, backing vocals and anything we can think of), then drive back to Germany to play a few gigs, and then come back and do another six days.
There is a reason why I'm happy that we are ahead of our schedule. My girlfriend Nici is coming to the studio tonight! The day I'm going to come back from Sweden, she will be leaving for Scotland, to study for a year in Edinburgh and finish her university degree. As this weekend is our only chance to meet, she has flown up to Stockholm and we have booked ourselves a cosy little room at "Hotel Anno 1647", just around the corner, a five minute walk from Decibel Studios. And with any luck - once the drum recordings are done - I shouldn't be too busy. But first things first…
10) Making it easy
This is the only song I have ever heard Joe say, he is proud of writing. It is also one that I can never quite decide what to play on. The sensitive verses would almost be OK with no drums at all, but the choruses seem to demand big drumming and have all the qualities of a great pop song.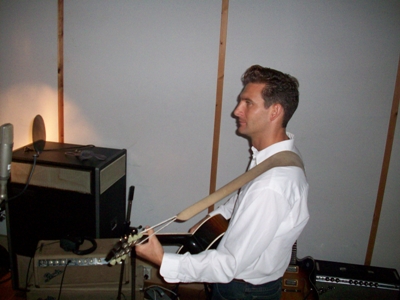 More and more my old Ludwig is becoming Lasse's weapon of choice, this time in combination with the low (Black Beauty) snare drum. We record the song a couple of times, with Jamie playing his Framus electric double bass and Joey on his faithful 1962 Gretsch guitar, while Lasse keeps changing the drum pattern around.
Trying out this and that ("Wolffie boy, we're really sorry about what we just made you play! It must have been strange. Forget it, OK? Here's another idea…"), we develop a whole new groove together.
Yeah, now it might work. Only the bridge is a bit tricky and I need a few tries to a) remember what I'm supposed to be playing and b) not loose track of the metronome entirely while I'm playing it.
20/11/08, Wolff's studio-recording-diary
studio day 3, part 3:
8) Something to live for
Here comes another one of Joey's songs, one that we all know and can record together.
We did once record it before, at Peer Studios in Hamburg - and sometimes it can be tricky when you have a version in your head that you liked. It's hard to just let it go and be open for new ideas.
For inspiration, Lasse shows us some clips on YouTube, of the Temptations playing "My girl" and other songs. He really loves those little fills their drummer does. I sit down behind the old Ludwig; we put on headphones, turn on the click and go for it.
The song is build around two interweaving riffs between the guitar and double bass, and we don't mess with that. We only add some toms (and general Temptations-attitude) to the drum groove and - instead of going to half-time - just keep the rhythm similar on the choruses. I always find it hard to get into the right feeling, when playing a new part that I have to concentrate on. Joey and Jamie seem to feel the same way, because we keep demanding take after take. At some point Lasse pushes the talk-back button: "You know what I'd like, you monkeys? For once, I would like to work with a band who plays a great take - like this last one - and can REALLY appreciate it!"
9) Love's great Illusion
It feels like a long day already, what with the hangovers and all. But this is another song that is quite dear to us and has become an integral part of our live shows. Lasse and Tommy have never seen the way we play it live, but luckily our fan Antje has filmed and given us a copy of our last gig at the Duckstein festival in Luebeck. They like it, so we try to record it pretty much the same way, no click, no smoke, no mirrors.
Jamie plays his acoustic guitar with quite some authority; I do my weird octopus thing, where I play the shaker, tambourine and drums at the same time, and Joey focuses on his singing, while creating a psychedelic vibe with his electric guitar; only the moog we decide to add later.
One test run later - and after Tommy has set up an extra microphone for the shaker and walked out again - we hear Lasse's voice over the headphones: "Oh, and just one more thing."
Short pause… then the studio light is slowly dimmed to near darkness and Tommy comes back in with an array of our favourite drinks. Wine for Joey and me (the old people), Beck's for Jamie. Oh lord, how soothing! They must have read our minds.
We do two takes and - although the first one ends in a kind of train wreck and I break my only drum mallet on the very last note of the second one - we're certain we've got it.
We listen back in the control room and agree to use the first one; the mood and atmosphere seem just beautiful. Lasse right away decides not to fix the chaotic ending, but to make it a part of the song.
A bit of chilling out on the sofas, some more talk and drink, then we all go home - ready for a good night's sleep.
11/11/08, Wolff's studio-recording-diary
studio day 3, part 2:
But now it's time to go to work. We're already one step ahead of our schedule (three songs yesterday, instead of our daily two) but today we manage an impressive four!
6) The Sting
You may never have heard of this song before. As the recordings drew nearer, first Jamie and then I (Well, if everybody's doing it!) eventually felt the urge to sit down and record demos of our (previously unrecorded) songs - to play to Lasse. He chose this one of Jamie's.
We start by recording Jamie singing and playing it (on his Gibson acoustic guitar) to a click track. Then Lasse and Tommy have an idea: "Wolffie boy. Think you can tune your toms to specific notes? We're going to have the two-note bass riff played on two low floor toms!"
Great - after two long days of tuning and trying to get the drums to sound perfect, now change everything and do more tuning? But wait a minute. I'll just use two toms of Dagge's drums, the studio's house kit. I ask Dagge and he says it's no problem. I'm at it for about 25 minutes (quite frankly, I don't feel too well today) when I realize it's no use. The toms each have a top and a bottom skin, but those seem to interact in mysterious ways when it comes to tuning definite pitches.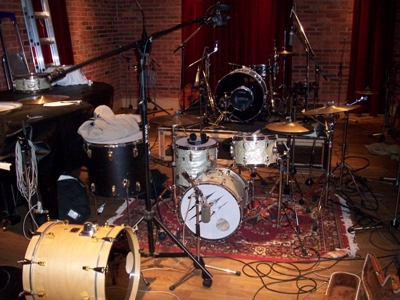 I take off the bottom skins, replace one of the top skins with a thinner one and try again. Another 20 minutes and I realize that hitting hard produces a different note than hitting softly. By now, I don't feel like ever tuning a drum again. If all this is only a scheme to rid me of my obsession with tuning: It works. I get Jamie on the job to fine tune the other drum (he actually does a great job), while I finish mine.
The playing is only a matter of minutes! They 'punch' me in on the right sections of the song, we try different volumes, but then it's done - and sounds good.
Just as I'm about to sit down and rest my weary head, they call me in again. "Ahem, there is a key change - the same bass riff is also played on a different chord. Can you tune the drums to those notes as well?" Jesus.
Well, sometime later it is done (this time Joey helps me) but I'm not off the hook, yet. A heavy bass drum groove is required (on Dagge's big bass drum, I quickly TUNE it), some crash and ride cymbals - and then I'm finished.
7) Mr. Man
Up next is another song you may have never heard of, written by (yours truly) Mr. Wolfman. So, before I get too used to sitting around and doing nothing, I better get to work.
Tommy records me playing the song to a click once, on an upright piano. Then I sing the melody on top of that. After that, I start preparing the Yamaha drum kit. I use a slightly funkier snare drum (my 14" Ludwig Acrolite) that everyone seems to love, and Tommy asks me to change to thicker hi-hat cymbals (from Dagge's stuff).
Jamie doesn't know this song (just like you) or at least he has never played it, and Lasse doesn't seem to want any guitar on it - which makes it my turn again. I play a funky drum groove on the whole song except for the bridge, but (by Lasse's request) with only one single drum fill. Then I sit down behind the Ludwig drum kit - with its totally different sound - and play a sort of Motown rhythm on the bridge. Finally, I put in as many extra drum fills that I can think of - some of which later might or might not be chosen for the final mix.
Perhaps you think that playing your own song with a recording of yourself doing vocals, piano and drums must feel… possibly a bit like masturbation? Well, I just can't get enough of telling the other guys how awesome it is. "Listen here. For once I'm playing with truly great musicians!"
03/11/08, Wolff's studio-recording-diary
studio day 3, part 1:
Wow, that was fun! But the head, it hurts now. Honestly, what do they put in the beer here in Sweden? I didn't even drink that many. Or is it something to do with the change of climate? Thank god, it wasn't such a late night. The music must have finished sometime before midnight. And then we went and talked to the musicians, outside the bar.
Oh yeah - the music was great: A kind of mix between Hawaiian Roots music and ancient American songs. It was these two brothers. Black suits, Acoustic and Lap steel guitars. And they both sing. But the older one - he looks exactly like Robert De Niro in "Angel Heart" - is the lead vocalist. And they have an Italian bass player and a Swedish girl is playing the mandolin. And there was this guest singer, pretty, with a twinkle in her eyes. She sounded like straight out of the 1920's. Anyway, I remember saying to Jamie: "What is it with the alcohol here? I've only had like three beers and I feel quite drunk already." And he was like: "It's definitely weird."
I also remember falling asleep and feeling absolutely sick on the ride home (in a taxi that Lasse had called for Jamie and me), but being too embarrassed to ask the driver to stop. I just about managed to hold it together until we reached our street, one of us paid the driver and we got out. Five steps to the nearest bushes were all I could make. While bending over, I thought "How come I always get sick, but everyone else…" - but then turned my head, just in time to see Jamie doing the exact same thing, three meters away from me.
Well, all this is going through my head as I'm doing my happy morning workout/warm-up routine.
Over breakfast, Lasse tells Joe and Tommy about the great fun we had yesterday night - and I'm really surprised about the many details I simply have no recollection of. "Remember that friend of Greta's (from Baskery) you were talking to? She wants to get you guys a gig in Stockholm." And yes, we DID leave the bar at some point, but Lasse almost had to drag me and Jamie (who was talking to the girl singer) out of there. Yes, he DID call us a taxi, but first all three of us went back to the studio for another hour, to get our stuff - and have another drink from whiskey bottle. Well, we may have had more alcohol than I remembered after all.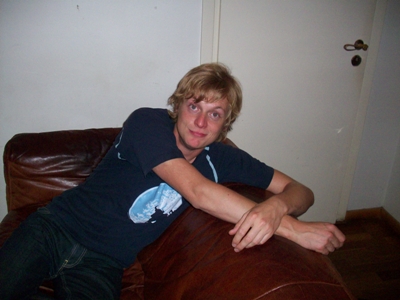 28/10/08, Wolff's studio-recording-diary
studio day 2, part 2:
4) Gate crashing
"Hey guys." Lasse says, "Here's an idea. We'll use the small drum kit for this one. Just three microphones, that's all. It'll be great. But first we'll record the bass drum. And we'll throw every microphone we got in the studio in front of it. We'll make it sound REALLY GREAT. This song is all about the bass drum, it has to be featured. What do you think?"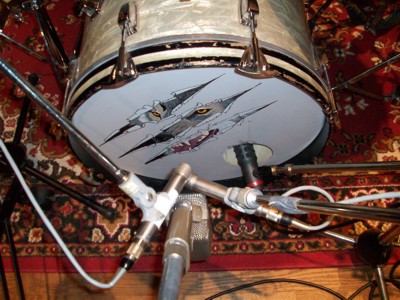 Lasse, you just have to love the guy. Obviously, the more microphones, the better the sound gets. It's just as we studio-illiterate monkeys always suspected!
This is fun. We play the song once: Joe's vocals, Jamie's acoustic guitar ("Surprise - YOU play it!") and my bass drum. Then I get to knock myself out: Many takes of just the drums, everything BUT the bass drum. Lasse and Tommy encourage me to play as many soulful drum fills as possible.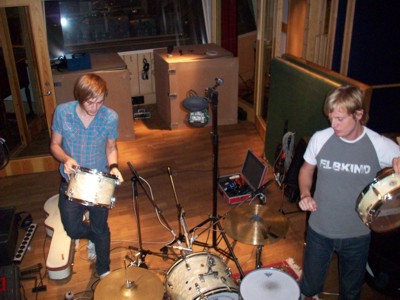 5) Don't let me let you down
I never told Lasse, but we had already recorded this song twice before. Once with St.Pauli producer, engineer and (former) KNUST sound technician Bunker. I have always liked his version, but Bunker had a funny way of getting us to play the perfect take. He recorded us playing the song about 48 times! Then we did a dinner break, came back and did about another twenty takes, the second to last of which he chose then.
Well, a good preparation for this recording session. We only play the song two or three times and it's done. Lasse and Tommy don't have to tell us anything. They just create a really beautiful sound.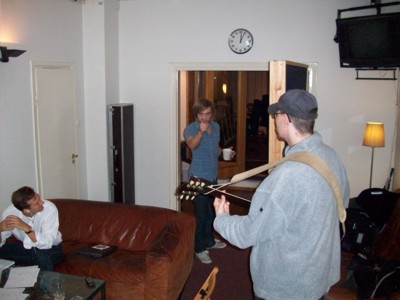 At eight o'clock Lasse calls it a night. A New York band called "The Aristocrats" is playing in Stockholm tonight. They are two brothers who have recently moved to Sweden and we met them the last time around at Decibel. Lasse has promised to go and watch their gig and - while Joe uses the opportunity to take a train back to Uppsala and see his beautiful wife and daughter - Jamie, Lasse and I walk over to the venue, a bar called "Harvest home". That is, we actually have a few beers (me and Jamie) and a whiskey (Lasse) at the studio first.
23/10/08, Wolff's studio-recording-diary
studio day 2, part 1:
I won the paper-scissors-stone game on Monday night.
Only we have our own band rules, so it should be called something like "Devil-Jesus-Fire". It's become a complicated ritual that involves bursting into the right song ("School of Satan!", "Peace, dude.", "Fire!") at the appropriate time.
Anyway, I got the single bedroom and now Jamie and Joe have to share the other one for the next four nights. It is good, because I can set my alarm a bit earlier and do a workout to relax my sore (from hard playing AND tuning!) back, arms and shoulders - without waking everyone up. I'm determined to be as good as possible these next few, (all important) drum-recording days. So, while the other guys are in the shower, I also secretly do a twenty-minute warm-up routine on my practice pad. (Should I really be telling you this? It doesn't sound very Rock 'n' Roll.)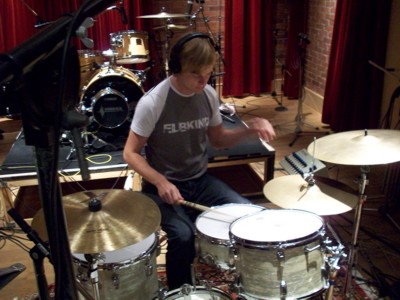 We take the subway to the studio and get there at ten o'clock. As we are a bit early, one of us walks down to the Slussen Galleria for some breakfast shopping.
Over breakfast, Lasse tells us that we are basically in good shape: With two songs done, we only have to do two more every day until Friday. Well, today we tackle three.
3) You can do anything
One of our fans' favourite sing-along songs, our mission here is to be as driving and MANLY as possible. I have to point this out, because Lasse and Tommy keep insisting that we should try to sound LESS GAY - "not that there's anything wrong with that" - and more ROCK.
That's a job for the big kit and the (muffled) Black Beauty again. As we play a few takes, each of our parts (guitar, bass and drums) is being simplified more and more - but we are also getting more and more into the playing. When we finally listen back, the result sounds great; quite a powerful little up-tempo number!
17/10/08, Wolff's studio-recording-diary
studio day 1, part 2:
Once the drum sound check is over…
(THREE HOURS of tuning the other drum set, setting up cables and microphones, tweaking the sound, trying out various snare drums, all the while playing the drums as loudly as I possible can - and then, just as I think we are finished, ANOTHER THREE HOURS of putting antique microphones in various places in front of the Ludwig, Lasse building a microphone stand for an RCA ribbon microphone from the 1940's out of a coat hanger, Tommy listening while positioning and re-positioning the mics, and me all the while playing the drums as loudly as I possible can)
…we start recording!
For the next five days we are booked into the big studio at Decibel and our mission will be to record so-called "backing tracks" of the 10 songs that Lasse and Tommy have chosen (I won't tell you which ones, yet!).
For us this means to play the songs pretty much the way we do live. Only we have headphones on. And we play to a click track (a computer metronome). And Joey, Jamie and I are all in different rooms when we do it. Otherwise, it's the same.
I am in the main room because drums sound best in here - and because it's big enough. Half left from me, through a glass window, I can see Joey in a small booth with his guitar and amp, a singing mike in front of him. Straight ahead is the control room, where Lasse and Tommy sit behind an enormous mixing board (Yes, they know what all these knobs do!) and to my right, in another isolation booth, it's Jamie and his double bass (expensively miked-up), connected to his bass-amplifier (which is in yet another room) through a stage box in the wall.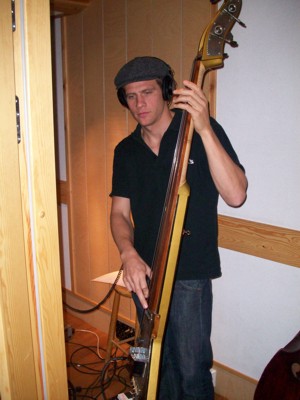 What we first want to capture on all of the songs, is the great drum sound from the big studio. Well, that AND the good feeling of a band playing together, of course.
But seriously, it's mostly about the drums. If the bass and guitar are good - great, we'll keep them! But since we're all in different rooms, we could always re-do them later. The drums we can only get done on those first five days.
So, I feel a bit sorry for the other guys. The three of us drive to Stockholm together - ready, willing and able - ambitious and totally excited about recording the new album. But then it's mostly me, "banging on my pots again".
What we get done on this first day, apart from the sound checking, is backing tracks to:
1) "Back to the rain"
Lasse and Tommy slow down the tempo - compared to our live-version - and ask us to play somewhat heavier. I play the big kit and change to thicker drum skins on my (proudly owned, brand new 6.5" Ludwig "Black Beauty") snare drum, while Tommy (the bastard!) covers it up with several layers of gaffer tape and kitchen towels. Then he asks me to play it harder and harder. And harder.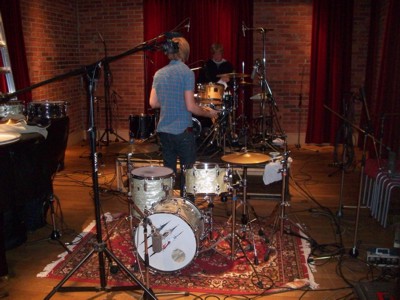 2) "Buzz chasing"
This gets somewhat re-arranged, so that the "Buzz Chasing"-part only comes once in the song, and also simplified.
I don't get to play any of my beloved 'ghost notes' in the beginning, which - I admit - sounds tighter, less busy and (OK!) better. But at least get to knock myself out on the coda, doing BIG drum fills. I have a somewhat sneaking suspicion that Lasse plans to fade out that part in the mix, though.
After a few cans of Beck's together, the three of us leave our bus parked a little up the road from the studio - we found a free parking space, which is a rare thing in Stockholm - and ride the subway home, crawl into bed and sleep…

14/10/08, Wolff's studio-recording-diary
studio day 1, part 1:
A good night's sleep - after a twelve hour drive yesterday from Hamburg to Stockholm - and everything feels OK again!

I just about managed to stay awake for setting up and tuning my drums, which is something I can usually do quite obsessively. Then it was time for bed.
For the first five days we are staying over at friends of Joe's while they are on holiday. It's only a 15 minute tube ride away from the studio.
Oh, the studio. It's great to be back at Decibel Studios and we meet all of our old friends again: Lasse - our producer, Tommy - his young assistant who is also a bass player with the German band STANFOUR, Dagge - who recorded and mixed our last album and Magnus - who can build and repair just about any kind of electronic device. They are great people, who are fun to be around and glow with a love for sound and music.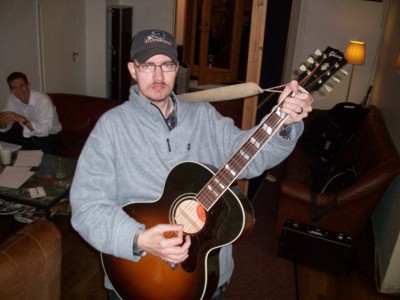 I wasn't too happy yesterday night. I had decided to set up my small Ludwig drum kit (the vintage one I use when we play live) but couldn't really get it to sound very impressive. This has to do with the fact that the main recording room at Decibel just sounds SO VERY GOOD. You don't find a single booming, ringing frequency to tune a drum to. Everything just sounds the way it sounds and you hear absolutely every little detail. So I went home thinking, maybe I should have set up the other drums I brought - a bigger, more modern Yamaha drum set. Then again, I really like that classic Ludwig sound.
You can imagine how happy I am this morning, when one of first things Lasse says to me is: "Wolffie boy! Me and Tommy have done some thinking. We want you to set up two drum sets for this recording session: The big one for the rocky stuff and the Ludwig, right in front of it, for the songs that need more of a vintage feel. We'll just mike them both."
Cool.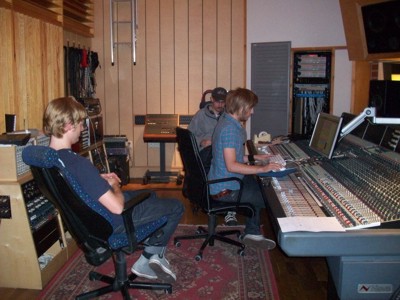 03/07/08 The Obsessions live at POOCA

Wow - definitely one of this year's sweatiest gigs so far!
A warm, rainy week-night on the Reeperbahn and a rather spontaneously arranged gig - we really didn't expect quite as many of our fans to be there (we can run but we can't hide!).
Some drove up especially from Stralsund. Others (visitors from Italy, England, Sweden and Denmark) had already seen us play some weeks ago and came out to celebrate their last night in Hamburg with us.
People also seemed to like our new song "Brilliant lives" (which made us happy).
This was really great fun and a good preparation for our upcoming show in Munich (HARD ROCK CAFÉ, this Friday, 11/07/08, 9 p.m.)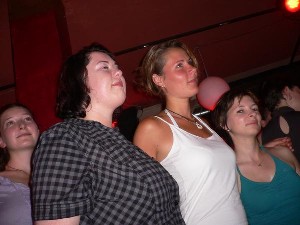 Stralsund. It's just a stone's throw from the Reeperbahn!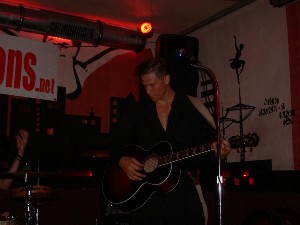 NEW! Jamie's guitar: From now amplified through a sweet little tube pre-amp.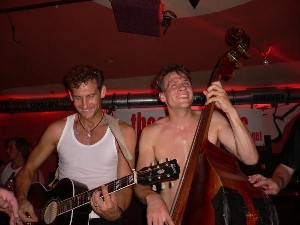 But you can also still play 'unplugged' -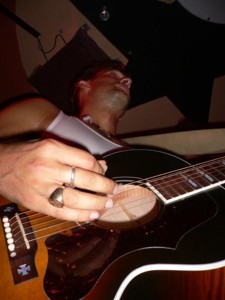 …providing you have an ACOUSTIC guitar,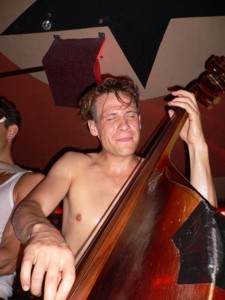 …an acoustic bass,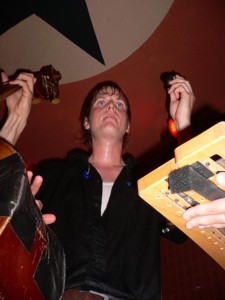 …an acoustic Glockenspiel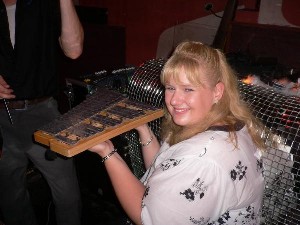 …and a special, acoustic Glockenspiel stand!
See you all down in Munich,
Wolfman :-)
(Photos by Jessie)
What's going on?
Phew! For the last few weeks the Obsessions have been working double time.
Rehearsing and playing gigs at night and doing "office work" during the day. Somehow all three of us find the latter real hard work!
The good news is: People really seem to like our new recordings.
We've been playing them to publishers, record companies, booking agents, promoters, lawyers, movie directors and burnt-out ex-guitarists. Overall: Positive reactions and some definite offers.
Of course, we can always do with more help. If you have any great ideas for us or know someone in the music business - just tell us, force them to come to one of our gigs with you or direct them to our MySpace page.
Gigs for that matter, have often become showcases - shorter sets mostly focusing on our newer material. I hope you still bear with us: Jamie is already trying to organize a special night - just for the fans!
I'll be honest with you: There hasn't been too much tour diary writing lately. Sorry.
But once I get going again, there'll be no stopping me! ;-)
(Nini wrote a nice review of our last Academy gig: http://www.ninawelt.de/11_02_2008.htm - Thanks!)

17/04/08 The Obsessions live at Pooca, MiNi-stage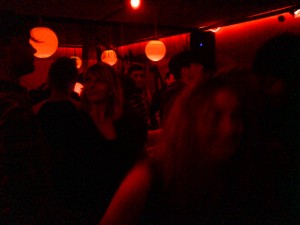 Always room for improvement: A completely re-done, even nicer pooca!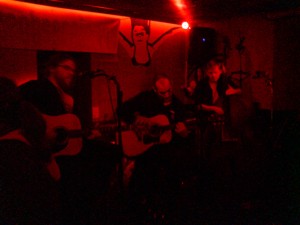 Our support tonight from Bremen, "Ich & mein Tiger"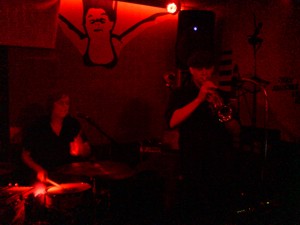 Collateral Damage: Jamie blowing his horn. "I played from the heart!"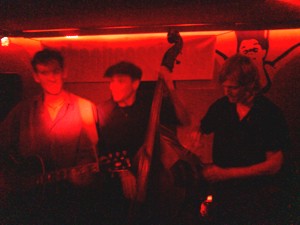 'Unplugged' and banging on the bass.
See you later,
The Wolfman

19/01/08 The Obsessions live at Fiddler's Green, Stade
Tonight in Stade, the unthinkable happens:
After more than five years we have more or less gotten used to the idea that gravity doesn't really apply when Jamie is pulling wild stunts with his double bass.
It appears to be weightless - whenever he plays it behind his back, rocks it like an electric guitar, jumps up onto it, uses it as a pogo stick, surfboard, platform or carrousel.
Until tonight…WHEN HIS FOOT ACTUALLY SLIPS OFF THE MONITOR SPEAKER, HE LOSES BALANCE, TIPS OVER BACKWARDS, IS SUSPENDED FOR A MOMENT IN MID-AIR, STARTS FALLING AND COMES CRASHING DOWN WITH A THUD, BURIED UNDER HIS BASS, UNABLE TO RISE ON HIS OWN ACOUNT, UNDIGNIFIED, LIKE A HALF SQUASHED BUG. THE FOOL. HONESTLY, IT CAN'T BE THAT HARD NOW, CAN IT? ;-)
No. Actually, I wouldn't have wanted look into my own terrified face at the time. But luckily (THANK GOD!) - nothing happens: Double bass and player are fine (except for a bruised ego) and all we can do to help, is to keep reminding Jamie constantly over the years to come, again and again. ;-)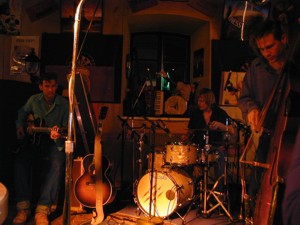 Keep your chin up, Jamie! ;-)
You also have to help all three of us please!
Before every concert we decide upon collecting email addresses from the audience. We absolutely agree on the importance of this. Just so every time more and more nice people will come to the gigs. But do you honestly believe that any of us ever remembers on the night? Mmmhh…(as Marge Simpson would put it)
So - please, please - Can you:
1) Remind one of us every time?
Or even better:
2a) Declare yourself email-representative-for-one-night,
2b) Try to collect 10 email addresses for us and thus…
2c) …earn a very special place in our hearts forever? *dog look with head cocked slightly to one side*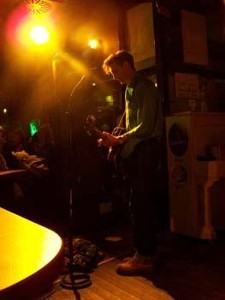 Thanks a lot for all your Feedback!
As a brand new song we are playing "Back to the Rain", tonight. As pretty-new songs "Love makes an Idiot of You", "Gate Crashing", "Love's Great Illusion" and "Killer" in a new arrangement.
I'd be happy to hear from you again: Which song did you like, which song not so much (including the old classics etc.)? (Mail to: wolfman@theobsessions.net)
See you next time in Stade!
Wolfman

(Photos by Nini und Lena)